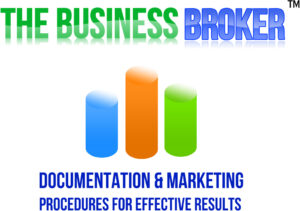 The Business Broker is available in three separate publication options:
BB1
The Business Broker – Documentation & Marketing Procedures for Effective Results
introduces and explains the various steps necessary to take a business to market in manual form. It includes the worksheets and forms used to develop the Business Sales Memorandum and is in PDF format. Various portions of the file can be reproduced by retyping the sections you may want to copy and modify. The purpose is to detail and explain the process of buying and selling a business. Business sellers, buyers, commercial real estate agents, and aspiring business brokers will find this manual informative and helpful.
Price $250.00
BB2
The Business Broker – Business Sales Memorandum Sample is an actual Sales Memorandum in PDF format of a real company. The intent is to clearly indicate how the information compiled from The Business Broker Manual converts to the finished product. The Sales Memorandum is a creative process and must be representative of the subject company being bought or sold. It is simply a final assist to help you visualize and format the unique business being represented. P&L, accounting, and company financial information are replicated and the company identity and any information that might indicate who the company is, has been redacted. Information unique to the subject company are blank and locate where you might add your company information.
Price $250.00
BB3
The Business Broker – Form Templates is in Word format and allows you to easily copy and reproduce the forms provided in the manual. It is provided in a single Word document.
Included with the single purchase of BB1 or BB2
INDIVIDUAL UNIT PRICING AS SHOWN
PACKAGE PRICE – BB1,2 & 3 $299.00
EMAIL REQUEST TO PURCHASE TO JQUICQUARO@gmail.com OR CALL 614-206-7234. We will forward an invoice for payment and deliver via email. Thank you!
Business Broker Condition of Use: The publisher or author is not engaged in rendering legal, accounting or other professional services to the user of its contents. All forms and content should be reviewed by the user's attorney and modified for its legally intended use.